Solid wood without character
OUR SOLID WOOD
Every tree grows in its own unique way
Wood is probably the oldest material of mankind and is still becomes more and more popular. Wood and the colour shades of the wood surfaces express the unsophistication and have a orrespondingly harmonic effect on people.

Willisau Switzerland is exercising utmost care regarding the choice of wood, veneer and wood materials. Different colour shades and structures, small shakes, light distortions, intergrowths and knobs are natural features of the material and can therefore not always be avoided. They rather bring out the unsophistication of such imperfections and form exactly your piece of furniture - they make it unique!
Characteristics
The individual design, distinct grain and uniqueness of each finish are what create the charm of the object. We are mainly using local and European wood for our furniture.

As is generally known, wood is described as a lively material over and over again. This does not only refer to the warmth and cosiness it radiates, though. Wood is a hygroscopic material. That means that it adapts its humidity balance to the environment. If the humidity level of the heated living environment drops in winter, for instance, wood releases humidity to the living space. In summer it is exactly the other way round.

This interdependency makes the material swell (expand) and dwindle (tighten). Nature challenges us here for, while the wood remains almost unflexible in longitudinal direction, it moves parallel to the medullary rays (2) and even stronger parallel to the annual growth rings (3). As the figure shows, in case of a table plate this means that it almost does not change in length when it is glued in length, however, might vary considerably in width.

We therefore recommend maintaining a constant humidity and room temperature. The individual design, distinct grain and uniqueness of each finish are what create the charm of the object. Our design provides the best possible conditions for expansion and contraction of the wood. However, it is not always possible to completely prevent smaller hairline cracks in the case of solid wood panel, particularly during periods of transition to very high temperature as well as fluctuations in humidity. We therefore recommend keeping the relative humidity above 40% (ideal humidity in the range of 50%-60%) during the cold and dry winter months.
To meet the multitude of requests, we offer our new PREMIUMline tables in a lengthwise solid design as well. Because these are natural, one-of-a-kind objects characterised by an extraordinary liveliness that is hard to tame with this type of construction in particular, we would like to bring explicit attention to the fact that wooden tabletops are especially sensitive to temperatures and humidity fluctuations. The lengthwise solid (wood) tabletops respond to these changes by "working", which means that over time smaller offsets and irregularities as well as warping of the tabletop can occur.

Constant indoor temperature
Humidity: between 50 and 60 %
indoor temperature: 18 to 23° Celsius

Dry wood absorbs humidity in moist air, cell walls extend. The shape of wood changes and it becomes bigger.

Swell
Humidity: more than 60 % humidity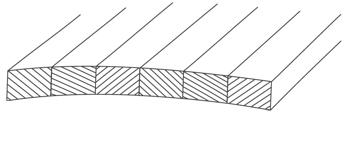 Dry wood absorbs humidity in moist air, cell walls extend. The shape of wood changes and it becomes bigger.

Dwindle
Humidity: below 40 % humidity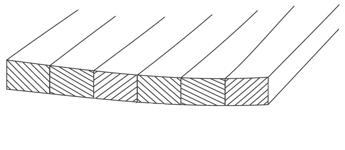 Moist wood cells emit humidity in dry air, cell walls become thinner. This reduction phenomenon is referred to as shrinking.

Various effects from light can change the colour of the wood. We therefore ask that you also expose the tabletop extension panel (table fully extended) to various lighting situations as often as possible, particularly at the beginning.

Shrinkage, distortion (swelling, expanding), cupping (warping), minor cracks and/or gap formations and discolouration are natural (caused by nature), comply with the current state-of-the-art and do not constitute grounds for reclamation.


Dimensional tolerances:
Thickness: +/- 2%
Width: +/- 3%
Length: 1 mm per meter "warping/cupping": 1 mm per 10 cm width of panel (considered normal and acceptable)
Wood humidity: A change of 1% results in approx. 0.6% change in mass.

The wood humidity is approx. 7-10% at the time production is complete. During the subsequent natural drying process of solid wood, small hairline cracks (particularly around branches) are unavoiable. These are practically invisible with non-stain treatments, treatment with wood tones or un treated products. However, these cracks may become visible under opaque surface treatments. Unfortunately this is unavoidable.

The structure of the wood (grain) in solid wood tables from the panel to the leaf (extension) is not continuous, due to the immense length of the logs that would be required!
Solid wood: oil or varnish ?
"Back to nature" – A trend which has long since found a place in the furniture industry as well. The number of natural finish products is increasing all the time, but what options do customers have to choose from?

Varnished finish
Varnished surfaces are treated with a rugged polyurethane lacquer, giving life to the structure of the wood and offering a partially close-pored finish. The varnish hardens the surface and protects it, for the most part, against spots of all types. In addition, the surface is resistant to acids and highly resistant to alcohol.

Advantages:
Easy to take care of, no special care necessary. The surface can be cleaned and maintained with warm water and a bit of washing-up liquid if necessary. In general, "less is more"! Make sure not to use any abrasive agents (such as Vif etc.). Ideally you should use a clean, damp cotton or microfibre cloth. Then dry off the surface using a soft, dry cloth.

Varnishes have a UV protective property that delays discolouration caused by sunlight. In addition to that, the surface is more resistant to water, alcohol and solvents.

Disadvantages:
Repairs can only be performed by a professional.

Oiled finish
Our oiled finishes are a treatment with a solvent-free, purely organic special natural oil, free of any additives. It gives life to the natural beauty and structure of the wood, giving the finish an open-pored and slightly silky shine. The oil penetrates the wood and protects it from the inside. This results in an oiled surface that is antibacterial and antistatic.

Advantages:
Natural finish. The oil creates a moisture-repellent finish. Depending on the condition of the surface, the protection against acids and alcohol can be guaranteed for a period ranging from several minutes to several hours. Because the oil penetrates the wood, the wood surface actually feels like wood, promoting a colour of the solid wood that is rich in contrast.
The finish can also be cleaned using lukewarm water. No additives are necessary. Ideally you should use a clean, dry or lightly dampened cotton cloth. Spilled liquids must be wiped up immediately using a clean, dry cloth or paper towel.

WARNING: Never use scouring agents, detergents or furniture polishes for cleaning purposes.

You can repair minor damages to the panel yourself. It is possible to repair scratches, small marks and spots.

Procedure for smaller scratches or permanent stains (e.g. indelible ink foam rubber-tipped pen or similar): (1) Use the scotch from the Willisau care set and sand the table in the direction of the grain. The sanding dust must be wiped off with a slightly damp cloth. Then let the damp tabletop dry completely. (2) Now the oil is evenly distributed on the table top with one of the two supplied cotton cloths. After 5 minutes of exposure, the oil must be rubbed off completely with the second white cotton cloth from the care set.

Never use micro-fibre or leather towels for this.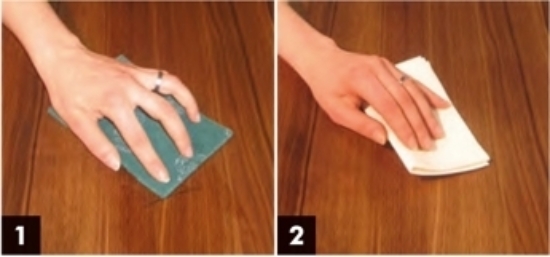 Procedure for repairing heavier signs of use:
Sand down the table using 220-grain sandpaper in the direction of the grain. Then follow treatment steps 1 to 2.

For all other damage such as heavy stains, scratches, soiling with a felt pen or wine stains, please contact your customer service.

Disadvantages:
The table has to be oiled at regular intervals (frequency of oiling depends on use of the wood surface, normally approx. 1-2 times per year). Please use the care set (oil) included with the delivery and make sure that you follow the instructions for care of oiled tables from Willisau, Switzerland.

Both methods of treatment have advantages and disadvantages that must be taken into consideration based on the owner's needs. For customers who want a care-free table, we always recommend a varnished product. Oiled products are for customers who appreciate the natural appearance of the finish as well as the possibility to perform small repairs themselves. As already mentioned, the oiled surface requires continuous care but provides the option in turn to carry out small repairs oneself.
Tutorial solid wood oils
Webshop for care products
Simply order suitable care sets for tables and chairs online in the webshop.
All care sets have been tested on our materials and surfaces. The shop is operated by our partner and care specialist LCK GmbH.
You can also conveniently purchase the original WILLISAU SWITZERLAND care set for oiled wooden surfaces in the shop.
To the shop: www.willisaugroup.moebelpflegeshop.ch
Solid wood with character
Characteristics
The natural structure of each solid wood panel is unique. This creates dining tables with a highly expressive, lively grain. The individual pattern, the distinctive and natural grain as well as the uniqueness of every surface are given particular consideration in the selection of solid wood with characteristic features. Branches and knots as well as hairline cracks in the wood surface add to the authenticity of the particular solid wood table.

Natural holes in the tabletop are filled with a dark special mixture and then given a clean finish and surface treatment. Here it is possible, i.e. not completely preventable, that small particles of the filler will break away during the working of the wood.

Elm wood in particular exhibits considerable natural colour variations. We minimise this accordingly by steaming the elm wood before it undergoes processing. Otherwise, the colour variations would be much greater. Your new, custom-made table can therefore still vary from what you saw originally (display table, wood sample).

The solid wood collapsing leaves (table extensions) do not necessarily exhibit characteristic features (knots, branches etc.) due to their "small" size.

It takes 80 to 140 year for a tree to grow before it can be used. During this time, each wood develops it's very own, unique image. Branches and intergrowths therefore naturally differ in shape, size and number and make every table unique.